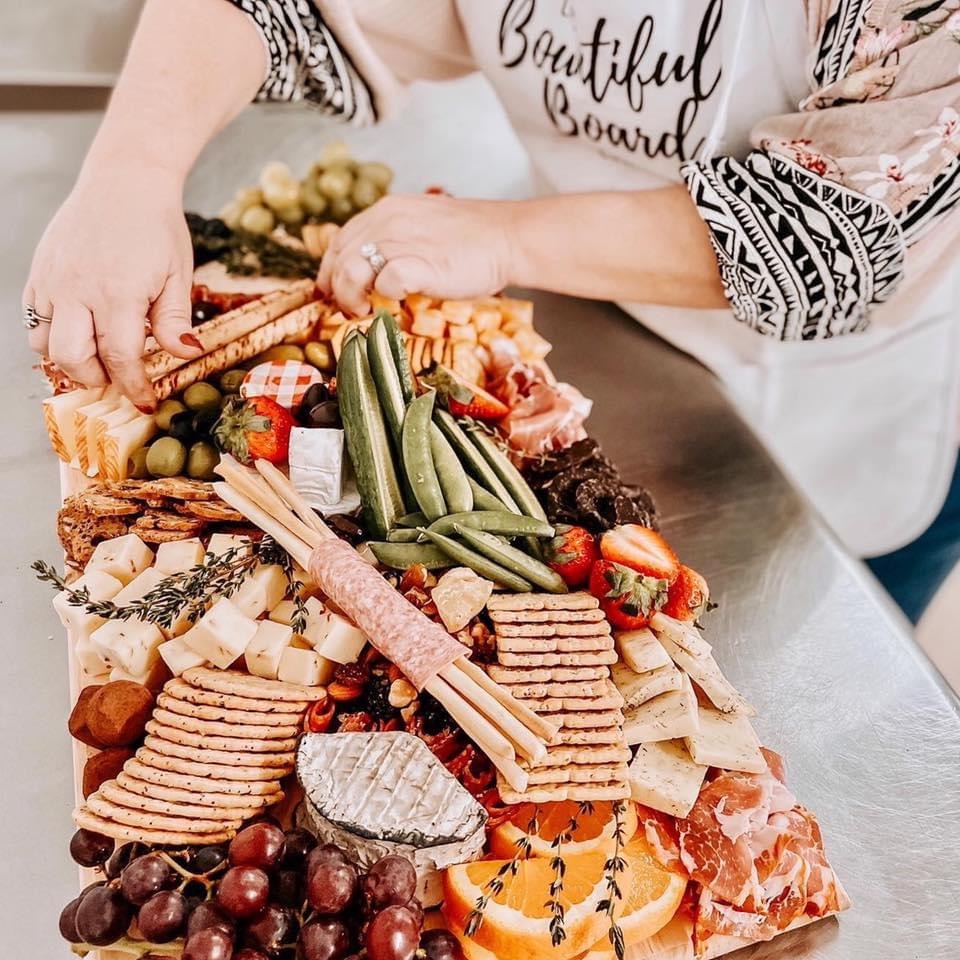 Welcome To the Bountiful Board!
What is The Bountiful Board? In a nutshell, I make customizable and unique charcuterie boards. A blend of meats, cheeses, crackers, fruits, nuts, veggies, olives, pickles, chocolates, desserts, candies, etc. served on a board for you and your guests to enjoy. I would love to make your next event the talk of the town. Whether it's a holiday party, birthday party, bachelorette party, wedding events, showers, girls night out, a luncheon, kids birthday, euchre/bunco night and so on... I've got you covered.

Contact us at Christy@TheBountifulBoard.com or call us at 317-753-3703 if you have any questions.

We look forward to helping add that special something to your next event!
Board Appetit!
Christy Johnson
Founder & CEO
Follow us on social media:
Our Customers
We think our boards are pretty great, but don't just take our word for it! Here's what a few of our customers have to say about them.
Christy did an amazing job for our son's high school graduation open house. We ordered 2 six foot boards and they were impressive! Beautifully arranged with fruits, vegetables, cheese-ball, cheese, meats, crackers, jellies, chocolates, breads and condiments, the boards created a visual "WOW" for our party. You name it, we had it on our board! We meet with Christy a few weeks before our open house to talk through our vision for the boards and Christy brought them to life. She delivered the boards to our house the morning of the open house, set them up, and all we had to do was enjoy time with our family and friends. We received many compliments about the impressiveness of the boards. I cannot recommend Christy enough, especially if you are looking for something unique that can serve a lot of people and is a breeze to clean up. Our goal for the open house was something different and easy, and Christy delivered that hand down. Christy's professionalism, kindness, and thoughtfulness and just her personal energy made our son's graduation party very, very special. The Bountiful Board is the way to go for a gathering.
The Bountiful Board was a lifesaver for us! With only one week's notice, Christy created six beautiful boards for us for a preview party we were hosting in one of our new neighborhoods in Westfield. The boards were beautiful, all of the fruit and vegetables were so fresh and all of the cheese, crackers and dips were delicious. We highly recommend The Bountiful Board and look forward to working with them again on our next event!
The Bountiful Board blew us away! We ordered a board for a grand opening party and it was exactly what we needed. So gorgeous and delicious!! The perfect treat for a party, event, or family gathering! We already planned our next one!
Christy has done a few charcuterie boards for various corporate outings we have organized. She will meet you at a venue, and 100% take care of setting up a beautiful display of meats, cheeses, sweets, and more prior to your guests arriving. Not only is it convenient and a substantial amount of food for the price - Christy is a pleasure to work with. I highly recommend The Bountiful Board for your next corporate event.